On 12 April I conducted the 33rd Points of Listening workshop at Shoreditch Church. The blurb for the Workshop series reads:
*
Points of Listening (PoL) is co-convened by Salomé Voegelin and Mark Peter Wright in association with CRiSAP University of the Arts, London.
PoL is a monthly programme of experimental workshops, activities and discussions based in and around London. Events are open to the public and held at London College of Communication in addition to various locations, outdoors and indoors, throughout the city.
PoL seeks to promote and investigate listening together: to perform a 'musica practica' of listening across disciplines. It is an expanded and nomadic arena for practice and research that facilitates experimental scenarios with a participatory and performative emphasis.
*
My workshop explored the Listening devices, which I designed and made with the architect Lara Karady, here's the blurb:
*
Since we are always already listening, it is difficult to achieve a sense of perspective on how we approach the act itself. If one's perception of sound is altered or modulated through a listening device, then upon returning to the 'norm' of one's naked year, one may be able to gain some understanding of the act of listening. A listening device defamiliarises the ear and brings sound to the experiential fore, thus shifting the focus away from a default visual priority and the habits of the naked ear.
The Listening Devices, designed by architect Lara Karady and sound artist / composer Alex De Little modulate sound according to specific aspects of our auditory sense, such as the ability to sense direction, the ability to perceive frequency, the ability to hear the distance of an object, or the ability to hear at all: devices resonate, channel sound, block sound, and amplify sound in certain ways; they are activated by users' movement and interaction, and each device provides an opportunity for a particular approach to listening.
This edition of Points of Listening explores the Listening Devices in the context of a series of games, which use the devices to explore our engagement with listening through movement and singing. In these games everybody is a listener, but each listener is also participant, performer and audience member. In this context, a series of individuals morph into an interdependent group whose characteristics are constantly shifting and contingent on the interrelationships between each and every listener.
*
Below are some audio snippets from the event. Each relates to a specific game.
Following
In this game workshop participants formed pairs. In each pair there was a listener and a sound creator. The listener moved around the space blindfolded, constantly trying to locate a distinct percussive sound made by the sound creator. The sound creator was responsible for guiding the listener around the space with their sound, making sure that it was within earshot, but also that the listener was always reaching towards it, or in approach of the sound. The acoustic affordances of each listening device shaped the interaction between listener and sound creator, provoking a range of head movements and listening choreographies.
Following / Singing
This game takes the same form as above, but this time, sounds are created only with the voice.
Moving / Singing
In this game, all listeners are also sound creators. Everybody holds a single pitch and is at the same time listening for and seeking out somebody else's pitch. They aim to touch somebody else on the shoulder. When two people make contact in this way. They take a breath, change note and seek out a different pitch. The result is a morphing harmonic cloud of dynamic perception. Listen to the recording below.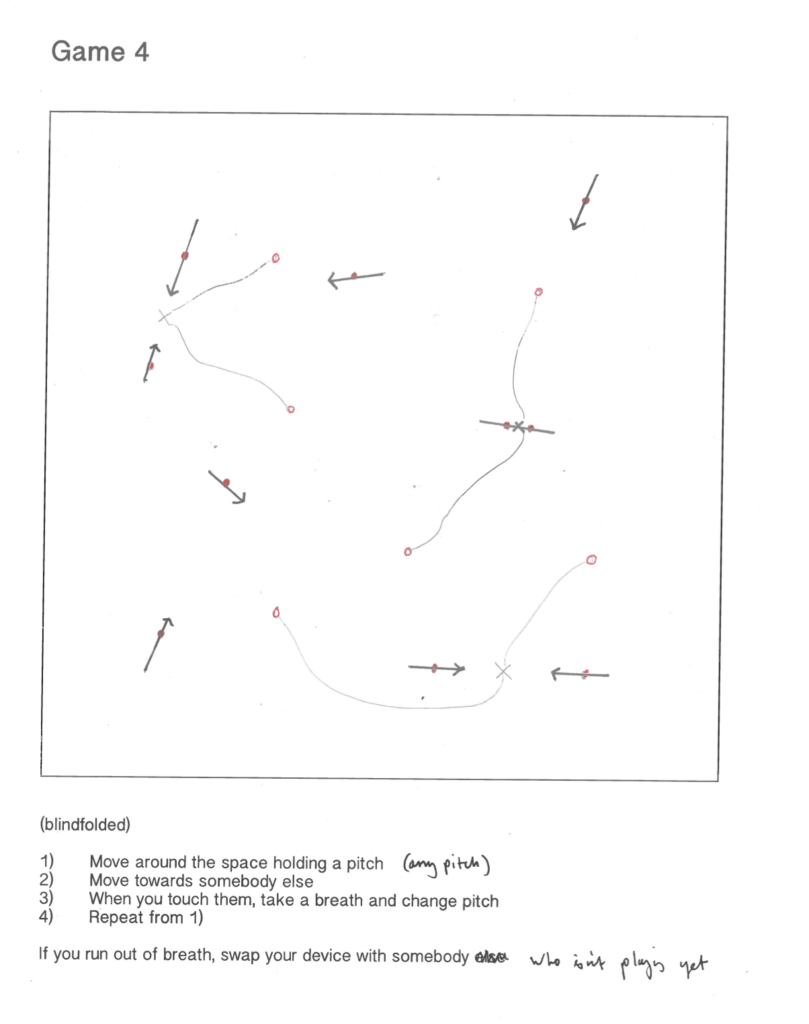 Listen here for some insights from the workshop
Images