I recently had the opportunity to showcase two recent pieces (Reflection / Position and Moving, Singing) at the Odrathek festival in Lambeth. The festival was curated by Musarc and featured a array of artists from across the UK and Europe. Here's a bit more information about the festival:
*
Odrathek is a tentacular weekend of experimental music and vocal performances curated by Musarc, one of the UK's most progressive choral collectives. Taking place in the main hall of an old fire-station in Lambeth, Odrathek is the ensemble's largest-scale event to date, bringing together artists from the UK and abroad to develop projects that break down boundaries between different art forms, performers and audiences, musical genres and ways of making music, and to ask: how do we make music in the Chthulucene*?
Running over one evening and two afternoons, Odrathek is a non-stop happening of performances, parliaments, installations, screenings, workshops and eating together. It gives an insight into the unique universe of the choir and its cross-disciplinary working method where traditional ways of practice collide with ideas both inside and outside the domain of music.
Musarc and the artists at Odrathek create a theatrical spectacle where bread, Bach and Debussy mingle with slime-mould, the choir learns and practices, yodels, moves bamboo sticks, poems, sound and mounds of earth, sets the universe to vibrate, conducts nonsensical language tests, plays the building with bouncy balls, singing/eating and protesting together with an audience that can watch, listen and work with the artists, and become part of a post-political, post-post real-time opera.
During the festival, screenings, installations and special solo-performances by the artists alternate with workshops and practice sessions of the choir which allow the audience to experience and take part in the performances and their making, including works and new commissions by Jenny Moore (CAN/UK), Celia Gondol (FR), Claudia Molitor (UK) and Joseph Kohlmaier (AT/UK), Jenna Sutela (FIN), Amber Priestley (US/UK), Alex de Little (UK), Edka Jarzab (POL), and members of the ensemble Amina Abbas-Nazari (UK), Jakub Modrzejewski(POL/UK), Natalia Kieniewicz (US/UK). It features installations and screenings by Volkmar Klien (AT) and Karin Hasselberg (SWE), and Lore Lixenberg's (UK/DE) real-time opera PRÊT Â CHANTER, and special performances by Rebecca Jagoe (UK), Rie Nakajima (JP/UK), Benedict Drew (UK), Esther Venrooij and Heleen van Haegenborgh (BE).
*
Here's a excerpt of my piece Moving, Singing:
From Spectator review of Odrathek: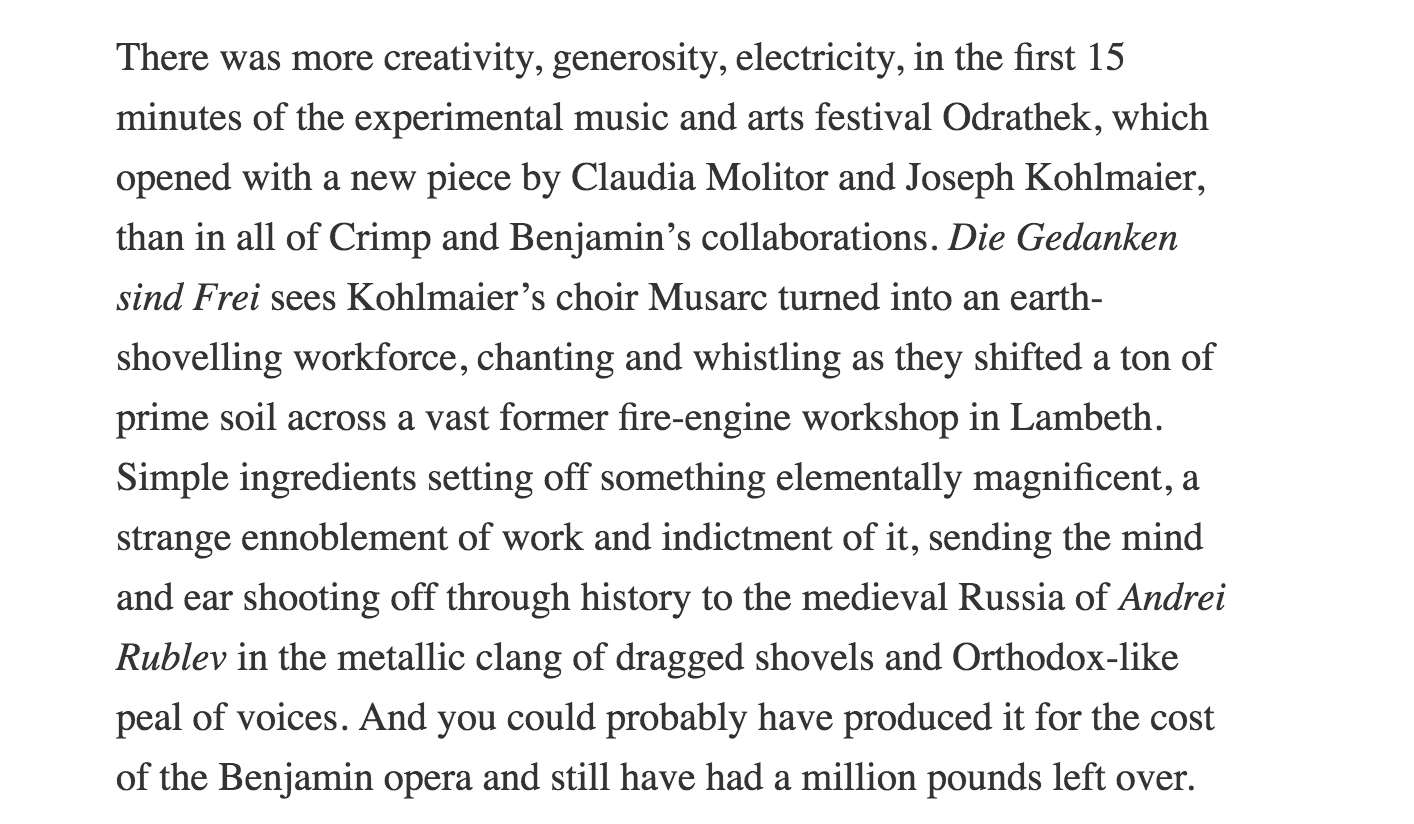 All images by Yiannis Katsaris