Last week I was on tour with g·bop orchestra, led by the excellent composer and percussionist Greta Eacott. g·bop orchestra is a project very close to my hear, and something that I have been involved in since 2013. The line-up of the ensemble is amorpus and ever-changing. this time we toured as a Six Drummer Formation, a line up which Abi Bliss from The Wire Magazine described as follows:
'Along with an often riotous sense of joy in diverse textures and rhythms bumping up against each other, the record conveys a palpable sense of group interaction'
Here's the bio:
*
This experimental percussive ensemble emerged from South London in autumn in 2013. Led by percussionist and composer Greta Eacott, the band has gone on to release two e.ps, their debut album Punctuations In Space (recorded in One Take in various non-studio settings) and toured in UK and Scandinavia, with a constantly mutating line-up featuring different combinations of players from across Europe. Their high tension acoustic live shows bring fresh and abstract musical ideas together with a clarity and direction, making the g·bop orchestra as at home touring with a pop band as they are in an art gallery.
*
In this tour, Greta presented her new work,  spaces between for percussion, in six parts unfolding in Denmark and UK. Spaces between is a single composition, which takes each gig of a Denmark/UK tour as a new section.
Spaces Between 2K17 tour was organised by One Take Records in collaboration with Manchester based LEGROOM; a team working with physicality and movement within curating. And alongside performances by Six Drummer Formation; events will also featured performances by AEVA(UK),  YNGEL(DK),  and YEMGEL(UK).
During the tour, we also did the following:
21/3/2017: NTSLive, Channel 1 at 15:00-16:00 GMT,  Gbop Orchestra Six Drummer Formation hosted the percussion music show 'Percussive Outreach Programme'.
22/3/2017: Space/s As [Musical] Material workshop led by Greta Eacott, Alex De Little and LEGROOM. CCCH, Leeds University School of Music.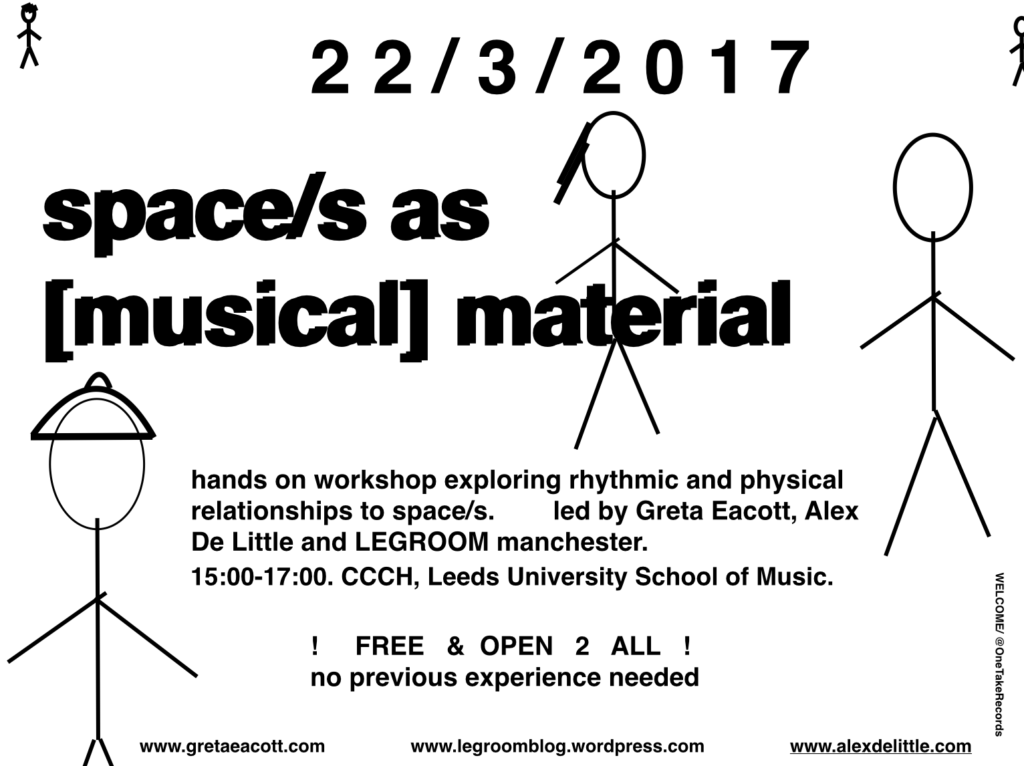 25/3/2017: ResonanceFM, at 12:00-12:30 GMT, Gbop Orchestra (Six Drummer Formation)  live performance on air Dexter Bentleys HelloGoodbye show! [listen from 50:30]
We have some excellent recordings from the tour and hope to release them in the future, watch this space.